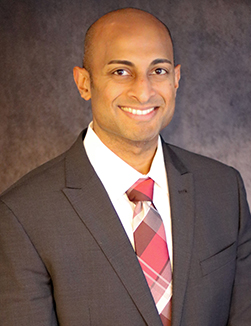 Rijo Philip, DO
Dr. Philip is specialty trained in Neuromusculoskeletal Medicine with a focus on Osteopathic Manipulative Treatment (OMT). A Texas native, Dr. Philip completed his undergraduate education at Texas A&M University and completed his medical degree and fellowship in Osteopathic Manipulative Treatment at Texas College of Osteopathic Medicine in Fort Worth.
He also earned a Master of Theology degree from the Catholic University of America in Washington, DC and remained in Washington, DC for residency training. His combined medical and theological training has resulted in deeply rooted beliefs in a person-centered, holistic approach to medicine.
Dr. Philip espouses the tenets of osteopathic medicine: particularly, that the patient is a unit of body, mind, and spirit. He believes that the body has its own self-healing and self-regulating mechanisms, a concept increasingly supported through research exploring the science of how our body actually heals and functions. He is excited to be returning home to Texas and to sharing his patients' healing journey toward better health.
Reviews from his Patients
I'm writing this review on behalf of my mom who is a patient here. She raves about Dr. Philip. She had gone in for frozen shoulder and back pain, and is currently undergoing OMT (osteopathic manipulative therapy). After a few treatments, she experienced significant improvements, and she attributes them to "Dr. Philips magic hands". Not only is he kind and intelligent, but it is very evident that he genuinely cares about his patients. Bottom line: I would highly recommend Dr. R Philip. Maryam

Dr. Philip's work in OMT has not only helped to relieve neck pain I had dealt with for years, it is obvious he truly cares for the well-being of his patients through his careful listening and willingness to offer recommendations and guidance. Jennifer F

No more pain, 10000% recommend Dr. Philips. David B

Dr. Philip has been awesome in helping me heal through several different joint issues. He is very kind and has a great bedside manner as well as being thorough and knowing his stuff! Highly recommend! Kim L

Dr Philip and then NTXMSK team are awesome. From the initial evaluation and follow up my foot pain was resolved. A therapeutic approach that works. Joseph DAmore
Education:
2018-2021: The Wright Center National Family Medicine Residency, Washington, DC
2012-2017: Sacre Theologiae Baccalaureus, The Catholic University of America, Washington, DC
2007-2012: Doctor of Osteopathy with Predoctoral Fellowship in Osteopathic Manipulative Medicine, Texas College of Osteopathic Medicine/UNTHSC, Fort Worth, TX
1999-2003: Bachelor of Business Administration, Texas A&M University, College Station, TX, Summa Cum Laude
Personal
Husband to Megan McCleneghen Philip, Father to Mariyam
Interests in exercise and playing sports, especially basketball and volleyball
Enjoys spending time with family and friends
Parishioner of St. Elizabeth Anne Seton in Keller, TX